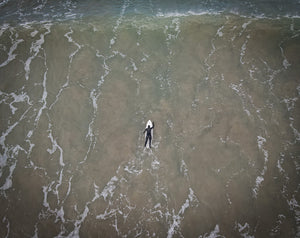 A Beginner's Guide to Surfing in Ireland: Tips and Tricks
The Emerald Isle, with its rugged coastlines and powerful waves, offers an enticing playground for surfers of all levels. If you're a beginner looking to catch your first wave along the shores of Ireland, you're in for an exhilarating and unforgettable experience. In this beginner's guide, we'll provide you with essential tips and tricks to make your entry into the world of Irish surfing a smooth and enjoyable journey.
.
**1. Choosing the Right Spot: When it comes to learning to surf in Ireland, selecting the right spot is crucial. Look for beaches with gentle and consistent waves, ideal for beginners. Bundoran's Tullan Strand and Lahinch in County Clare are popular choices for newcomers. These spots offer ample space, manageable waves, and often have surf schools that provide lessons for all skill levels.
.
**2.
Suit Up with the Right Gear:
Having the right
equipment
is key to a successful surfing experience. Start with a beginner-friendly soft-top board, which provides stability and buoyancy. Additionally, a wetsuit is essential to keep you warm in Ireland's cool waters. Make sure the
wetsuit
fits snugly to prevent water from flushing in and cooling you down.
.
**3.
Take a Lesson:
Enrolling in a surfing lesson is one of the best ways to kickstart your surfing journey. Certified instructors can teach you proper techniques, safety protocols, and how to catch your first waves. Their guidance will help you progress faster and build a solid foundation for your future surf sessions. In Bundoran we are more then lucky to have two wonderful surf schools, such as:
Wesurf
and
Murf Surf school
.
.
**4. Mastering Paddling and Balance: Before you even attempt to catch a wave, practice paddling on your board and finding your balance. Spend time paddling around in calm water to get comfortable with the motion. This will not only improve your stamina but also boost your confidence in the water.
.
**5. Understanding Wave Dynamics: Learning to read waves is essential for a surfer. Observe the ocean's movement, how waves form, and the direction they're breaking. This knowledge will help you time your paddling and catch waves more effectively.
.
**6. Practice Patience and Persistence: Surfing is a sport that requires patience and persistence. You won't be riding big waves on your first day. Embrace the learning curve, celebrate small victories, and keep practicing. With time, your skills will improve, and you'll find yourself gliding across the water with confidence.
.
**7. Respect the Ocean and Environment: Surfers have a deep connection with the ocean, and it's important to treat it with respect. Be mindful of local rules and guidelines, pick up after yourself, and avoid damaging fragile ecosystems. Leave only footprints and take away fond memories.
**8. Stay Safe: Safety should always be a top priority. Always surf within your skill level and pay attention to weather conditions and tides. If you're unsure, it's better to skip a session than risk getting into a dangerous situation.
.
**9. Connect with the Community: Surfing is not just a sport; it's a community. Connect with fellow surfers, come and talk to the guys at Surfworld Bundoran, and engage in the vibrant surf culture. Sharing experiences, tips, and stories can enhance your overall journey.
.
**10. Embrace the Experience: Above all, embrace the joy of surfing. Feel the rush of catching a wave, the thrill of riding it, and the serenity of being out in the water. Surfing is not just about conquering waves; it's about connecting with nature and immersing yourself in the moment.
.
As a beginner, your surfing journey in Ireland is a canvas waiting to be painted with new experiences and exhilarating memories. With the right mindset, proper guidance, and a dash of courage, you'll find yourself riding the waves and becoming part of Ireland's vibrant surfing culture. So, grab your board, put on that wetsuit, and get ready for an adventure like no other.
---