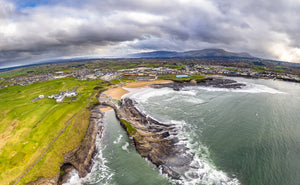 Exploring the Beauty of Bundoran: Beyond the Surfing Scene
Nestled on the rugged coastline of County Donegal in Ireland, Bundoran is often dubbed the "Surf Capital of Ireland" due to its world-renowned waves. While surfing is undoubtedly a major draw, this picturesque seaside town has much more to offer than just riding the waves. Whether you're an adventure seeker, nature lover, or history enthusiast, Bundoran has a plethora of activities and attractions to keep you entertained. In this blog, we'll explore some of the best things to do in Bundoran that go beyond surfing.For more things to do in Ireland visit Sam's Travel Guide:
Fenceless Travel/Ireland
1. Cliff Walks
For those who crave scenic beauty and a taste of the great outdoors, Bundoran's cliff walks are a must-do. The Roguey Walk, in particular, is a popular choice. It takes you along rugged cliffs, through tranquil forests, and offers breathtaking views of the Atlantic Ocean. The dramatic landscapes and the fresh sea air make it an excellent choice for a leisurely hike or a family picnic.
2. Fairy Bridges and Wishing Chair
Nearby the town, you'll find intriguing natural formations known as the Fairy Bridges and Wishing Chair. These unique geological wonders have captivating legends associated with them. The Wishing Chair is said to grant wishes to those who sit in it, while the Fairy Bridges are named for the mythical fairies said to inhabit the area. These whimsical spots are perfect for a magical stroll and a photo op. Waterworld If you're traveling with kids or simply looking for a fun aquatic adventure, Waterworld is a fantastic option. This indoor water park offers a variety of thrilling slides, a wave pool, a pirate-themed play area, and a spa for relaxation. It's an ideal way to spend a rainy day or unwind after exploring the town.
.
.
3. Bundoran Adventure Park
For a dose of nostalgia and family-friendly fun, visit the Bundoran Adventure Park. This charming amusement park features classic rides, carnival games, and delicious treats. It's a great place to create cherished memories and enjoy the festive atmosphere.
.
4. Donegal Equestrian Centre
Explore the stunning landscapes of Bundoran from a different perspective by embarking on a horseback riding adventure. The Donegal Equestrian Centre offers horse riding experiences suitable for all levels, including beginners. Ride along sandy beaches or traverse scenic trails through the countryside, all while enjoying the company of these gentle giants.
.
5. Bundoran Glowbowl
Bowling enthusiasts and families looking for indoor entertainment should check out Bundoran Glowbowl. This modern bowling alley offers a lively atmosphere with neon lights and music. It's an excellent way to spend a fun-filled evening with friends or family, complete with tasty snacks and drinks.
.
6. Jump from Rougey Rock
It is a well-known spot for thrill-seekers and adventurous swimmers to leap off the cliffs into the Atlantic Ocean. The Rougey Rock Jumping Board is essentially a cliff diving spot. Adventurous visitors climb onto the rocks and leap into the sea below. It's essential to exercise caution when attempting cliff diving, as the height and sea conditions can vary.
While Bundoran is celebrated for its incredible surfing opportunities, it's evident that this coastal town has so much more to offer. From scenic cliff walks to enchanting geological formations, water parks, amusement parks, and equestrian adventures, there's a diverse range of activities to explore in Bundoran. So, whether you're a thrill-seeker, nature lover, or simply seeking a family-friendly destination, Bundoran has something special in store for everyone. Don't miss the chance to discover the beauty and charm that lies beyond the waves in this delightful Irish town.
---