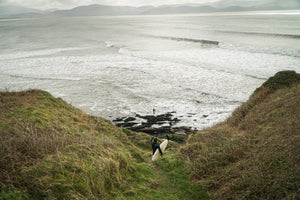 Exploring the Best Surf Spots on the Wild Atlantic Way
The Wild Atlantic Way, Ireland's rugged coastal paradise, is a surfer's dream come true. Stretching over 1,500 miles along the western edge of the Emerald Isle, this epic route boasts some of the most exhilarating and breathtaking surf spots in the world. From towering cliffs to hidden coves, the Wild Atlantic Way offers a diverse range of waves that cater to surfers of all levels. Join us as we embark on a virtual journey to explore the best surf spots along this iconic route.
.
1. Bundoran, County Donegal: The Surfing Capital
Nestled in the heart of County Donegal,
Bundoran
stands as the epicenter of Irish surfing culture. With consistent swells and a range of breaks, it's a paradise for both beginners and experienced surfers. The Peak, a reef break, offers powerful right and left-handers, while Tullan Strand provides more forgiving waves perfect for learners. The town's vibrant surf scene, complete with surf schools, cozy cafes, and a laid-back atmosphere, makes Bundoran a must-visit destination for any surfer.
.
.
2. Lahinch, County Clare: A Surfer's Playground
Lahinch is another gem along the
Wild Atlantic Way
that draws surf enthusiasts from all corners of the globe. The beach break here offers consistent waves suitable for all skill levels. Lahinch's charm extends beyond the waves, with a lively town and stunning cliffs that create a dramatic backdrop. The reef break known as Aill na Searrach produces some of the most powerful waves in the region, attracting experienced riders seeking an adrenaline rush.
.
.
3. Easkey, County Sligo: Serenity and Swells Easkey, a small village in County Sligo, offers a unique surf experience characterized by a tranquil setting and powerful waves. Known for its reef breaks, Easkey Left and Easkey Right, this spot is favored by surfers looking for a more remote and serene surfing environment. The challenging waves demand respect and skill, making it a favorite among experienced wave riders seeking a thrilling adventure.
.
4. Inch Beach, County Kerry: Beauty and Waves Inch Beach, located in County Kerry, presents a breathtaking fusion of sandy shores and powerful surf. Its expansive beach break and consistent waves attract surfers and beach lovers alike. The gentle gradient of the seabed makes it an excellent choice for beginners, while still providing ample fun for those with more experience. The stunning backdrop of the Dingle Peninsula adds a touch of magic to every session.
.
.
5. Achill Island, County Mayo: A Hidden Gem For those in search of solitude and pristine waves, Achill Island in County Mayo is a well-kept secret. The island offers a variety of breaks that cater to different conditions and skill levels. Keel Beach is particularly renowned for its consistent swells, while the lesser-known Silver Strand can reward intrepid surfers with uncrowded barrels and an enchanting atmosphere.
.
The Wild Atlantic Way is a paradise for surfers seeking an unforgettable experience along Ireland's rugged coast. From the buzzing surf culture of Bundoran to the serene beauty of Easkey, each spot along this epic route offers a unique wave-riding adventure. Whether you're a beginner or an advanced surfer, the diversity of breaks ensures that everyone can find their perfect wave. So, pack your wetsuit, wax up your board, and get ready to ride the thrilling waves of the Wild Atlantic Way.
---
1 comment